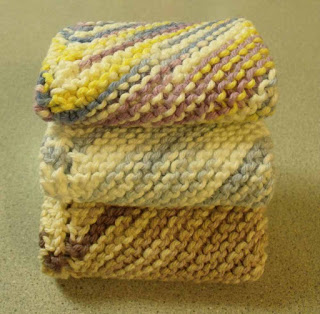 This is a great project for anyone who is just learning how to knit. It's not an overly complicated project and the yarn is easy to find and not too expensive. Best of all the final result gives you something you can use, even if it doesn't turn out perfectly 😉
If you are a new knitter, I've added links demonstrating how to do each of the stitches necessary for this project. I would recommend that getting the basics down first with a swatch or two, then getting into this project 😄
---
I use a size 5 mm (US size 8) knitting needles but this can be done with whatever size you like. The size of you needles will determine the final size of your dishcloth. You will also need one ball (42.5 g or 1.5 oz.) of crafter 100% cotton yarn. They are available in a variety of colours just about everywhere. Look for sales or buy a big ball if you plan on making a lot of dishcloths. And don't forget about Amazon! There's always a great selection of 100% cotton yarn there.
Unlike the majority of my patterns, this one is only available online and not for download.
More of my stuff on Etsy:
The dishcloth itself is knit along the diagonal, like how TVs are measured. You can make it as big as you want, but I find 45 to 50 stitches makes for a good sized cloth. If you would like it larger, you will need to buy more balls of yarn. Make sure that your lot numbers on the balls you select are the same or else the colours may be off.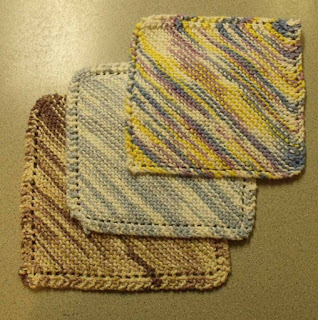 Cast on 3
Row 1: Knit
Row 2: Knit
Row 3: K1, YO, Knit to end of row. Repeat this row until there are 48 stitches on your needle.
Next Row: K1, YO, K2tog, K to last 4 stitches, K2tog, K2. Repeat this row until there are 5 stitches remaining.
Next Row: K, YO, (K2tog) twice. 4 stitches remaining.
Next Row: K, K2tog, K. 3 stitches remaining. Cast off. Work in ends.
You can make variations of this basic pattern by making wider edging: Instead of K1 before the YO you can K2 or K3. You could also make the center as a stocking knit stitch (purl one row then knit the next).
Feel free to use this pattern to make your own dishcloths to sell or give away. Just don't reprint this pattern in any form without my permission, but linking to it and sharing is always appreciated!
If you are enjoying the free videos and patterns, then please share my work! Those handy little icons along the side or bottom of the page let you do it easily. If you'd like more information on how you can keep things free, learn how you can Help Support My Work.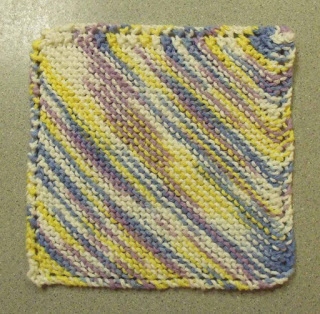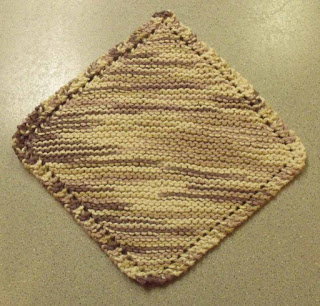 * The following statement is included to comply with Federal Trade Commission (FTC) regulations: as an
Amazon Associate
I earn from qualifying purchases. This
helps support this website
and offset the cost of hosting.