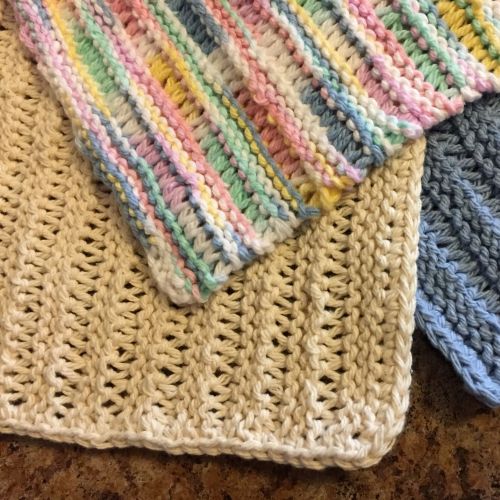 If you wanted to learn how to knit, this is the perfect project! Using only 3 basic stitches and including a complete step-by-step video embedded on the bottom of this page, you can make a beautiful lace like dishcloth. If you'd prefer to download the pattern so you can take it wherever you go, the download is available for a small fee on this website – Dishcloth Pattern
And here's a bit more info for you. Not only can you use the pattern create a dishcloth, but if you add more rows, you can easily use the same pattern to make a scarf!
---
The pattern itself is very short, repetitive and easy to follow. Exactly what a newbie knitter needs to get his or her knit on! For more the seasoned knitter, this pattern doesn't require a gauge as it's a dishcloth and sizing isn't important. Also, if you want to make a larger dishcloth, increase the number of initial stitches cast on and increase the number of repeated rows to make it square.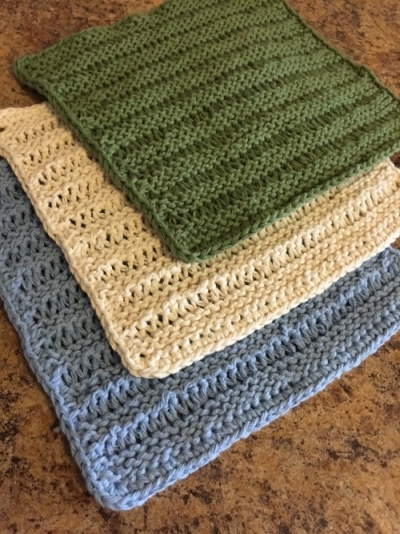 Like the free videos and patterns? Then please share my work! Those handy little icons along the top and embedded in this and all my patterns let you do it easily. And it helps me so much! If you'd like more information on how you can keep things free, learn how you can Help Support My Work.
---
Things you need:
Size 3 US (3 or 3.25 mm) knitting needles
1 3/4 oz (50g) ball of 100% cotton worsted weight yarn
Size 8 US (5 mm) crochet hook – this is optional
---
Cast on 35 sts
Row 1 – 5: Knit across

* Row 6: Lace knit stitch across.
To make this stitch, simply wrap the yarn twice around the knitting needle and work as any knit stitch. (Watch the how-to for this stitch at the bottom of this post.)
Row 7 – 11: Knit across.* Repeat from * to * 8 more times. There will be 9 lace rows.
Cast off
If you want to make a scarf simply repeat from * to * as many times as you like until you knit the length you want.
More of my stuff on Etsy
You can stop here if you choose to not crochet the edge. If you prefer a more finished edge for your dishcloth, single crochet evenly around the edge. Make 2 sc in each set of 5 rows, 1 sc in the lace knit row, 3 sc in each corner, and 1 sc in each knitted stitch along the cast on edge and the cast off edge.
That's it! Like I said before, this is a very repetitive pattern that enables the newbie knitter to master a few basic stitches while still making something they can be proud of. A more experienced knitter can make these in a few hours or less and great to whip up if you want to give them as a gift, sell them online or at a local market, or even if you need a dishcloth for yourself. An let's be honest, can you ever have too many dishcloths? Or is that just me…
---
* The following statement is included to comply with Federal Trade Commission (FTC) regulations: as an
Amazon Associate
I earn from qualifying purchases. This
helps support this website
and offset the cost of hosting.