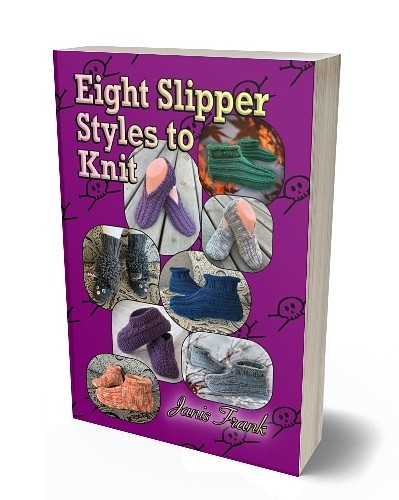 Well, I'm back at it again. Updating my old patterns with new photos and the occasional typo fix. I'm also very pleased to say that I have had enough of rehashing the old and am nearly done. Just a couple more to go.
So like always I've made this compilation of my original slipper patterns available as a PDF, Kindle and physical book. The book is available only through Amazon at this point. Like my other compilations, please pick the country you're from so if you are an Amazon Prime member, you'll get the shipping for free.
The patterns themselves are still all free to read on the website (the links are listed further down this post). You won't be able to print them from the site. I lose ad revenue if you do… Betchya didn't even think of that before 😉. I've kept the cost for a printable PDF very low so it's definitely within everyone's budget. It's less than a ball of yarn! You can purchase the PDF through this website here – Eight Slipper Styles to Knit or you can get it through my Etsy shop here – Eight Slipper Styles to Knit – Updated and Revised.
For those comfortable with reading patterns online, clicking any of the links below will take you right to it.
And to beat any Karen's to the punch…if you're scrolling past everything here to leave a nasty comment that I'm lying about free patterns. Or maybe you feel you need some passive/aggressive, poor you bullish!t that it's too hard to close an ad to follow a link, please move on and don't use my patterns. I don't want my good in the world tarnished by someone as entitled as yourself. And also, learn how to use the internet before you start your self absorbed, unfounded complaints.
* The following statement is included to comply with Federal Trade Commission (FTC) regulations: as an
Amazon Associate
I earn from qualifying purchases. This
helps support this website
and offset the cost of hosting.