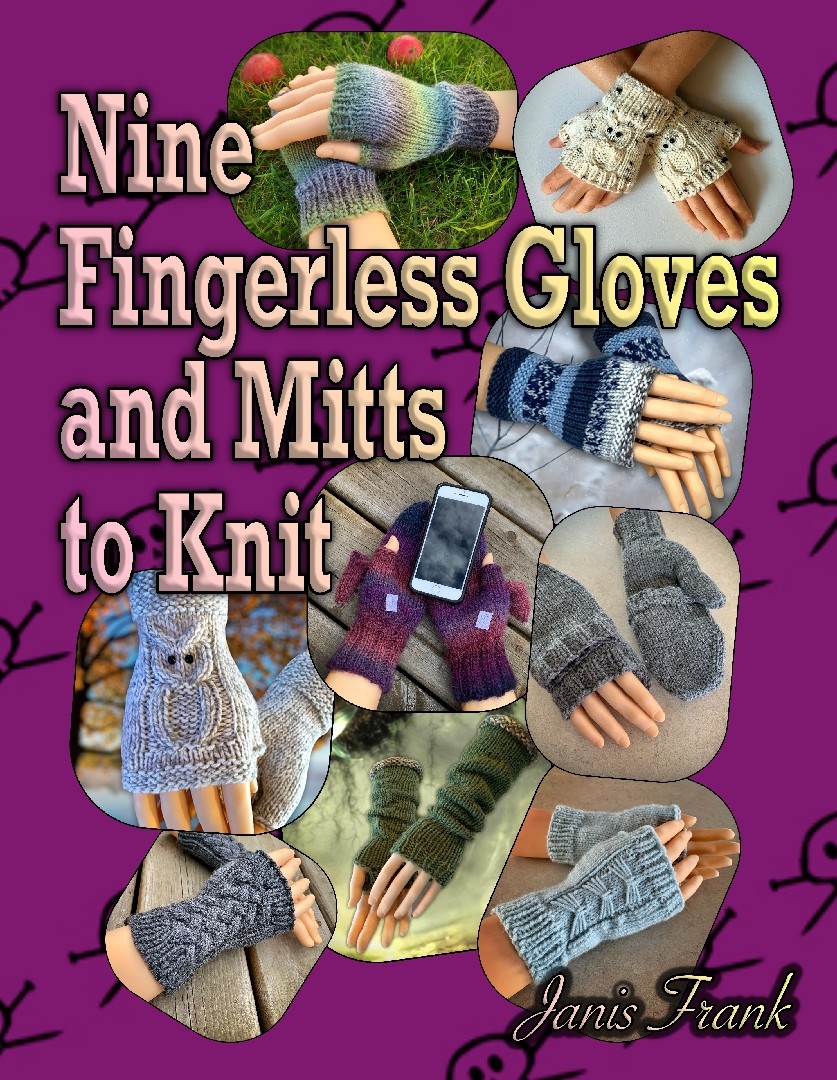 I've been busy as of late! I've updated photos and rewritten a few of my fingerless glove and mitt patterns over the last few weeks to bring you yet another compilation of all my mitt and glove patterns! To date, there are a total of 9 patterns all together. All the favourites, and a couple that were so old you may not have even known they existed. For some reason, people don't seem to like to do searches of this site or follow links. It's weird TBH.
Currently, it is only available through retailers online. You can order a physical copy through Amazon with free shipping if you are an Amazon Prime member. As I write this I am making a selection of my publications to physical book stores. It's a bit of a process to make this happen but hopefully 🤞🏼 I'll get the formatting down and accepted. Marketing is pricey so I need to be selective on how I'm going to approach this. Wish me luck!
Patterns to make all of the mitts and gloves in the photos below are included with this pattern collection.
But on to my latest publication. This collection contains patterns for fingerless gloves knit flat on 2 needles and seamless gloves and mittens knit in the round on double pointed needles (DPN). This compilation also includes mitts that are specifically designed for texting. And lastly, another design to free your fingers when you need them but cover your fingers when required. In short, this collection meets all your fashion and functionality requirements.
You can purchase and print the PDF yourself if you like. It is cheaper that way, of course. You can purchase it from my website here – Nine Fingerless Gloves and Mitten Patterns to Knit or from my Etsy shop here – Nine Knitting Patterns! – Fingerless Gloves and Mitten Collection. Either way I would like you to know it's 106 pages. It's a lot to print, but if you are comfortable reading PDF's on your table or phone, this a very economical option. You can also just print the pattern you want by selecting the pages and printing on two sides of the page, but you'll have to know how to do this. I can't help you because every printer has a different way of doing it.
If you want to purchase the printed book, delivered to your door for free if you're an Amazon Prime member, please click the country you are in:
This publication is available in English only.
Like always, all of the patterns are free to read on this website. They are ad supported and unprintable. Sorry, but too many people were just printing the pages leaving me with nothing but a bill for web hosting costs. You may not realize this, but with each illegal print, you cost me advertising revenue. I am writing patterns to help support me and my family, not charity. I can only give so much folks!
The list of the patterns in this collection include the following (all titles are clickable links to the pattern btw):
I've also organized it so there is a specific page with all of the glove and mitten patterns in one place. You can see that here: Fingerless Gloves and Flip Mitts – FREE Knitting Patterns
I hope to keep you all informed of my progress with getting my patterns in real stores. The potential is there and I'm really excited where this next stage of my pattern writing journey takes me.
Happy knitting everyone!!!